Your Professional Commercial Moving & Office Relocation in Little Rock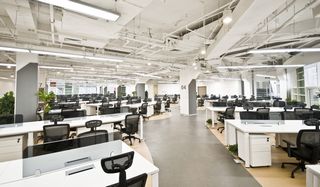 Oil Capitol Relocation routinely provides professional, high-quality office relocation services that address the needs of all our customers, never mind the size or extent of their move. And sitting atop the list of needs is seeing that we get companies back up and in full operation lickety-split, with as minimal an amount of disruption as we can help achieve and no real reduction of productivity or profitability. You can be sure we'll give the same consideration to your move.
To see that every stage of your office relocation goes as smoothly as possible, we assign you a personal Project Manager as a matter of course. He or she is an experienced part of our team who will field any questions or concerns you have while your move is underway. Also, your Project Manager will guide in developing the most appropriate moving plan to serve your needs, help coordinate logistics, and direct the rest of the Oil Capitol Relocation staff during the move. We also provide support services once we've gotten you where you're going, because our team knows that a move isn't finished once your furniture and equipment are unloaded.
In custom-developing a moving plan that's just right for your needs, we examine a broad range of provisions, from essential relocation services to installation to records management and everything in between. Our essential office relocation services comprise ...
Facilities Moving,
Records and File Moving,
Modular Furniture Tear-Down and Setup,
Numerous Storage Options,
Records Storage,
IT and Server Relocation.
To get further facts concerning our full complement of office relocation services, or to get started on your next move, call Oil Capitol Relocation today! One of our friendly, savvy representatives is standing by to answer any questions you may have. You can also, without obligation ...
Request a free quote